Diamond Buying Made Easier > Where To Buy Diamonds

Where To Buy Loose Diamonds








So you'd like to know where to buy loose diamonds....

It's not hard to find diamonds that are for sale today.... they seem to be everywhere! Last month, when we got our gas bill there was a flyer in with the statement promoting some "Stunning!" diamond earrings. Where to buy loose diamonds and gemstones?.... try your TV's remote control!.... I personally keep all those shopping channels blocked! And even one of my favorite online computer suppliers (this is where I can always find great prices on "my toys", as Kumiko calls them!) is advertising a one carat diamond ring at a super discount price!




Where to start....



I guess the best place to start is in the beginning! You will need to understand what you are trying to buy in order to find where to buy loose diamonds. Most people really don't understand diamonds because it requires some specialized knowledge. We understand things that we saw while we were growing up and we understand things we are exposed to on a regular basis... things that most people talk about, things on TV, etc.

In the summer of 2007, I had the bright idea that I could build a deck on the back of our house. Why did I think I could do that all by myself? I'm not a carpenter and I never built a deck before. Simple... when I was growing up I watched my parents make major modifications to our house (you need to know that I'm a nice Irish Catholic kid, so we had to make room for my 3 brothers and 5 sisters). While Kumiko and I were in Japan, we designed and built our house. And most important of all, I've watched it being done on TV!, This Old House rocks! So in other words, like most things in my life, I know enough about things to get into trouble.

After a lot of work, I did finish the deck without any real problems, that's because before I started I did my research and I had a pretty clear vision of the final outcome. If you have jumped to this page just because you expected me to tell everyone the best place where to buy loose diamonds.... well, I think you have gotten a bit ahead of yourself. The first place you need to start your journey to find where to buy loose diamonds is to go the top of the navigation items on the left side of this page. Make sure you have a good concept of "The Basics", "The 4C's", and "Diamond Shapes". If that's already been done.... then let's continue on.





The diamond pipeline...



First, an overview of the diamond distribution system is needed so that we can have a common point of reference when we talk about where to buy loose diamonds. The diamonds come out of the diamond mine (this is the source) and then they make their way to the diamond cutters, this is the manufacturer level. From the manufacturer, the diamonds usually move on to the dealers, these people are the wholesaler level. The last stop has the diamonds showing up in the showcases of your local diamond jewelry store, and this is the retail level.

That was a fast and simple trip down the diamond distribution pipeline but it is generally how a few million carbon atoms that got together over a billion years ago to form a diamond ended up in a beautiful piece of diamond jewelry. Most people are used to seeing and buying diamonds at a local retail diamond jewelry store, actually 95% of all diamond jewelry is sold at retail diamond jewelry stores.

Over the years I've seen many changes in how loose diamonds and diamond jewelry is distributed. When I started working at a wholesale jewelry supplier many years ago, gold was $35 per ounce, there were not many Gemologists around, diamonds were not regularly sold with diamond grading reports, Al Gore had not invented the Internet yet so there wasn't any online diamond retailers, and there wasn't any home shopping channels because there wasn't any cable TV.

There have been a lot of changes in where to buy loose diamonds and diamond jewelry. Along with those changes in the distribution system, there has been a reduction of the retail diamond jewelry store's markups as a result. Also there has been an ongoing process of "cutting out the middle man", and this has resulted in diamond buyers getting much more diamond for their money!




Knowledge has leveled the playing field!


The universally accepted GIA diamond grading system, along with diamond grading reports, have had the effect of slightly "commoditizing" diamonds. When something has become a commodity, it will have the same quality regardless of it's source, so price will become the determining factor. Copper is copper, a ton of wheat is a ton of wheat, etc.

If I am looking to buy a Sony HD-TV model ABC-123, all of these models that come off of Sony's production line will be identical, so it is easy to search around town and go online to check pricing of this TV. Based on the pricing and availability of this TV, I can then make my decision.

Diamonds are a bit different because you cannot get the diamonds to be consistently identical. If you go online and do a search for a 0.50ct. SI1 G Round Brilliant Cut diamond you will find a group of diamonds that will sell for between $900 to about $1300. These diamonds come with diamond grading reports, but they do vary in price, which means that there is a slight variation in their qualities. I think these are pretty good prices on these types of diamonds but unlike the TV this would be a blindfolded choice as to which one you should buy. If you went to a local retail diamond jewelry store you might be able to see a selection of diamonds and your eyes will help you make the decision as to which diamond is best because each diamond is slightly different.




Getting a good balance of quality and price....



I will help you examine where to buy loose diamonds and diamond jewelry. Each distribution channel will have it's good and bad points... and some will not be practical or possible. You know that probably the easiest thing to do would be to go into Tiffanys and take 10 minutes to pick out a nice piece of diamond jewelry. Job done, and you got a winner! But it will probably cost you.

If you are looking to save some money, get a bit better diamond for your money, or just trying to understand as much about what you are buying as possible... then it will require some work. I know that is why you are here.

Check out the other pages in this category to see what seems best for you. I will work hard to help you find out where to buy loose diamonds or diamond jewelry. It might be buying loose diamonds online, or buying diamond jewelry on eBay, or it just might be buying a diamond engagement ring at a local retail diamond jewelry store.





---
- Important Take Away Points -
Where To Buy A Diamond

#1- When you decide where to buy your diamond don't forget that one of the most important components will be the diamond grading reports. Stick with a report from a good lab and it will help to reassure that you are making an informed decision.

#2- Try not to focus totally on price. It can leave you open to being deceived.... there are other things to consider. Besides factoring in a certain level of service don't forget that a diamond from a well known source could add quite a bit of cachet to your new bling. It is a extra added emotional value when you can say that you bought a diamond from a well known impressive name jewelry outlet verses a diamond that was bought at Costco, Sam's Club, or ultra-cheap-diamonds.com



---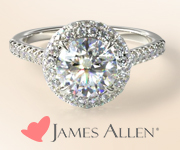 James Allen has a very interesting diamond website. They have.....
one of the largest and best selections of loose diamonds around,
their loose diamond prices are usually the lowest anywhere on the net,
they have top notch customer service, and best of all they are the
only online diamond retailer with actual pictures of the diamonds they sell.

Seeing is believing! Check it out for yourself....

click here!
---
---